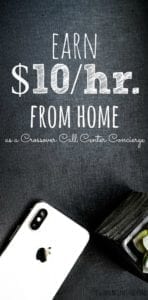 If you want to work full-time from home and enjoy customer
service you might be interested in working as a Crossover Call Center Concierge.
Unlike many other work-from-home positions that provide limited work
opportunities, Crossover only hires
full-time employees interested in working 40 hours per week.
In addition to paying you to work, they will also invest in
your career growth by paying for online skills training so that you can move up
the ladder.
Crossover works with companies all over the world to supply
call center support for their business. You will have the opportunity to work
with a variety of different companies.
Job Duties for Working with Crossover
As a crossover call center "concierge" you'll be responsible
for calling customers to make appointments, maintaining web-based files,
working with your team via Skype and when needed, following scripts for certain
topics.
You will be required to work an eight hour shift with a thirty
minute break.
Requirements for Working with Crossover
Requirements for this job are:
At least 18 years old
A High School Diploma or GED
Well-spoken English (American Accent)
Excellent communication skills
Basic computer skills – type, internet, and
Skype
Previous customer service experience
Previous call center experience is a plus
Must be available nights and weekends
Reliable high-speed internet
Previous remote working experience with your own
computer and microphone
Distraction-free, quiet work area
If you are fluent in
a second language, you are also more likely to be eligible for promotions.
Crossover Call Center is only looking for full-time
employees. If you're interest is only part-time or occasional work, this is not
the position for you. And since they provide a significant amount of training
and job-growth opportunities, they are also looking for people who are
committed to working for them long-term.
How Much Does Crossover Call Center Pay?
You will be hired as an employee, not an independent
contractor. The pay starts at $10 per hour for a 40-hour week, averaging $20K
per year. As you advance, you will be able to make more money. Crossover pays
employees bi-weekly via direct deposit.
How Do I Apply for a Position with Crossover Call Center?
If you're interested in this position, you can apply for the
Crossover Call Center Concierge by visiting their information
and application page.
When applying, you will need to complete an online test
within a set period of time as part of the application process.
You will be required to go through training before you start
working and additional training will be provided throughout your career to help
you move up the ladder.
Related Work from Home Jobs
Looking for more work from home jobs? You may be interested
in these:
9 Places to Find Virtual Call Center Jobs
11 Flexible, Part-Time Work from Home Jobs
10 Small Business Ideas for Women
The post Earn $10/hr from Home as a Crossover Call Center Concierge appeared first on Single Moms Income.